Genesis G70 Maintenance Schedule
Congratulations on purchasing your luxury Genesis sedan. Whether you're taking your first drive together or you've been on a few trips already, we know that you'll love every second of your Parker, Littleton, and Castle Rock, CO, commutes. To ensure your Genesis G70 will be by your side for years to come, you must stay on top of your routine maintenance.
We at Genesis of Littleton have created this Genesis G70 maintenance schedule guide. This way, you'll always know what service is needed along every milestone. Let's get started!
Every 10,000 Miles
When you and your Genesis G70 have been together for about a year, now's the perfect time to get started on your routine maintenance. At this 10,000-mile or 12-month milestone, whichever comes first, you'll want to perform the following services: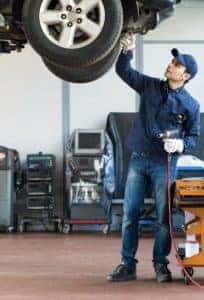 Replace the engine oil and engine oil filter
Inspect the vacuum hose
Inspect battery condition
Inspect braking system
Inspect air conditioner refrigerant and compressor
These are just some of the services you'll want to check and replace each time you drive 10,000 miles.
Every 20,000 Miles
When you reach the 20,000 mile or two-year marker, whichever comes first, there's some extra service you need to perform. In addition to the previously listed service, now's the time you'll want to inspect the air cleaner filter, vapor hose, fuel filler cap, and fuel tank.
Continue adding these extra inspections into your maintenance schedule every 20,000 miles you drive.
Once reaching 40,000 miles, replace the air cleaner filter, then inspect again at 60,000 miles to continue the pattern.
Every 60,000 Miles
Congratulations on being with your Genesis G70 for six years or 60,000 miles. At this point, you want to add a few extra services into your Genesis G70 maintenance schedule. On top of the previously listed services, now is the time to:
Inspect the rear differential oil (without LSD)
Replace the rear differential oil (with LSD)
Inspect the front differential oil (AWD)
Inspect the valve clearance
Adding these services into your maintenance plan at 60,000-mile intervals can help keep your Genesis by your side for another six years.
Special Service Intervals
Some parts of your Genesis G70 need to be inspected and/or replaced at varying intervals that don't necessarily follow a strict pattern like some of the previously listed services. Let's take a look!
Genesis G70 Unique Maintenance Schedule

Rotate Tires

Every 6,000 miles

Spark Plugs

Replace every 42,000 miles

Drive Belts

Inspect at 60,000 miles, then inspect every 12,000 miles

Engine Coolant

Replace at 120,000 miles, then replace every 24,000 miles
In addition to certain maintenance needing to be done at unique intervals, there are other services that need to be performed once or several times a year where mileage doesn't dictate when the service is needed.
Non-Mileage Service

Monthly Service

Check coolant levels
Check exterior lights
Check tire pressure
Check for loose lug nuts

Bi-Yearly Service

Check radiator, heater, and air conditioner for leaks
Check windshield wiper blades and fluid
Check seat belts for wear
Check muffler

Yearly Service

Lubricate door and hood hinges, door, and hood locks
Lubricate door weather strips
Check brake fluid level
Inspect and lubricate automatic transmission controls
You May Also Like:
Keep Your Genesis G70 Healthy with Routine Service
The only way to ensure you and your Genesis G70 will be cruising around Parker, Littleton, and Castle Rock, Colorado, for many years is to follow the Genesis G70 maintenance schedule. Luckily for you, our Genesis of Littleton dealership has a team of Genesis-certified technicians who can help perform this service in no time at all.
Ready to schedule your service appointment during one of our flexible service hours? Contact us to set up your service appointment today!