2021 Genesis G80 vs G90

---
If you're after a refined and luxurious ride with a powerful performance and high-end technology to get you around Parker, Littleton, or Castle Rock, CO, the 2021 Genesis G80 and 2021 Genesis G90 are two grand solutions. The team here at Genesis of Littleton knows that choosing the right ride takes serious consideration. Check out the differences between these two sophisticated sedans in our comprehensive review below to see which Genesis vehicle is the best fit for your night on the town.
---
Modern Design for the Modern Driver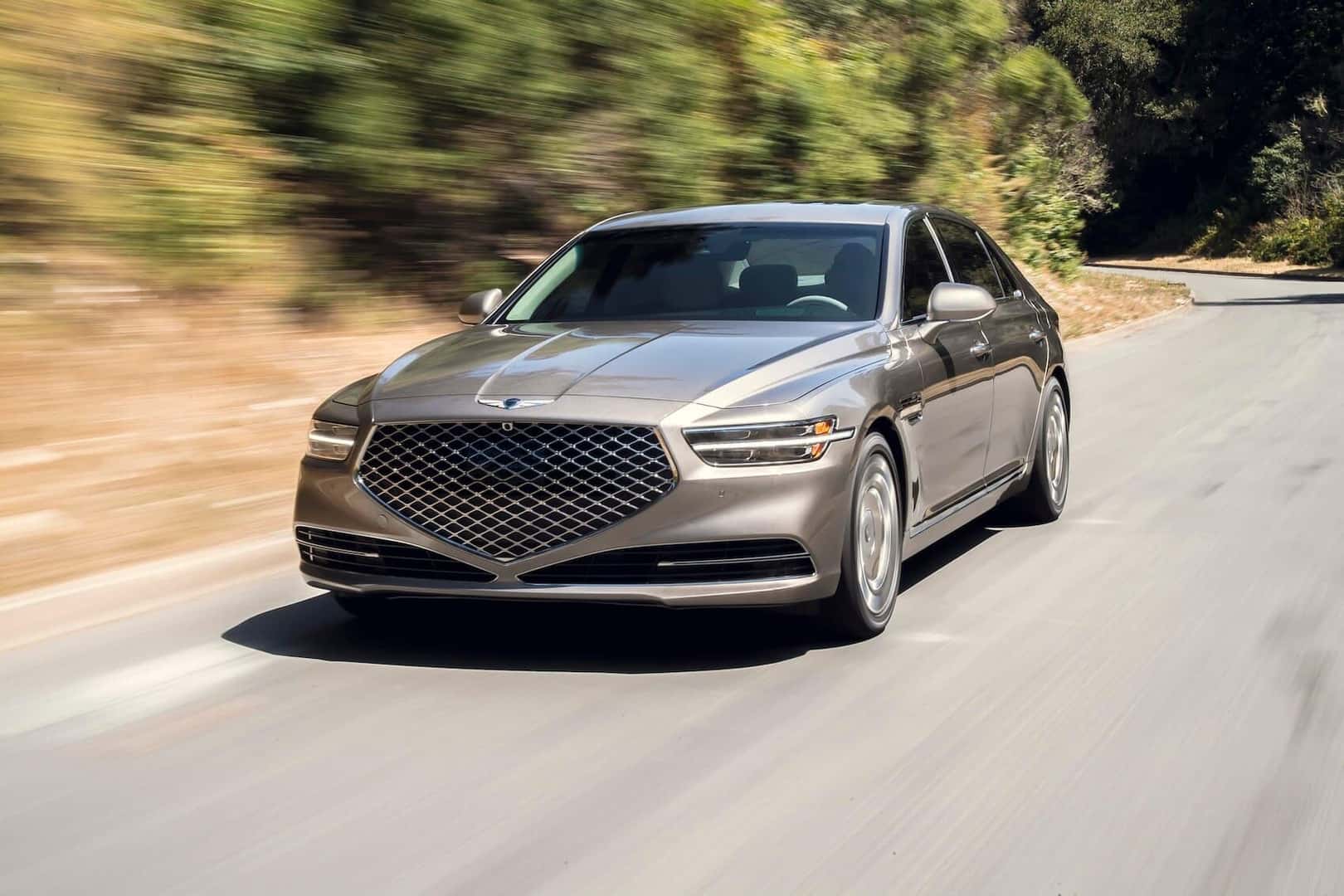 The 2021 Genesis G80 and G90 are two prime examples of contemporary design that will make your ride to work a truly elegant experience. Both models will turn heads as you roll by due to their twinkling quad-LED headlights, but they do have a distinctly different appeal behind the wheel.
The 2021 G80 will call to your inner racer, boasting mean curves that give it the feel of a classic '60s sportscar. If you seek a more refined journey, go for the 2021 G90 and its sound-absorbing basket-weave wheels that turn the interior into a sanctuary of peace.
As visually appealing as the exterior design features are, it's the interior comforts of the 2021 Genesis G80 and 2021 Genesis G90 that will make you feel at home. Both luxury rides will welcome you warmly with Nappa leather seats and power-adjustable seating with Smart Posture Care, which remembers your settings. For more customization, the 2021 G90 is fit with an available 22-way adjustable driver seat. However, the 2021 G80 also includes 12-way adjustable front seating.
---
Peak Performance for Every Drive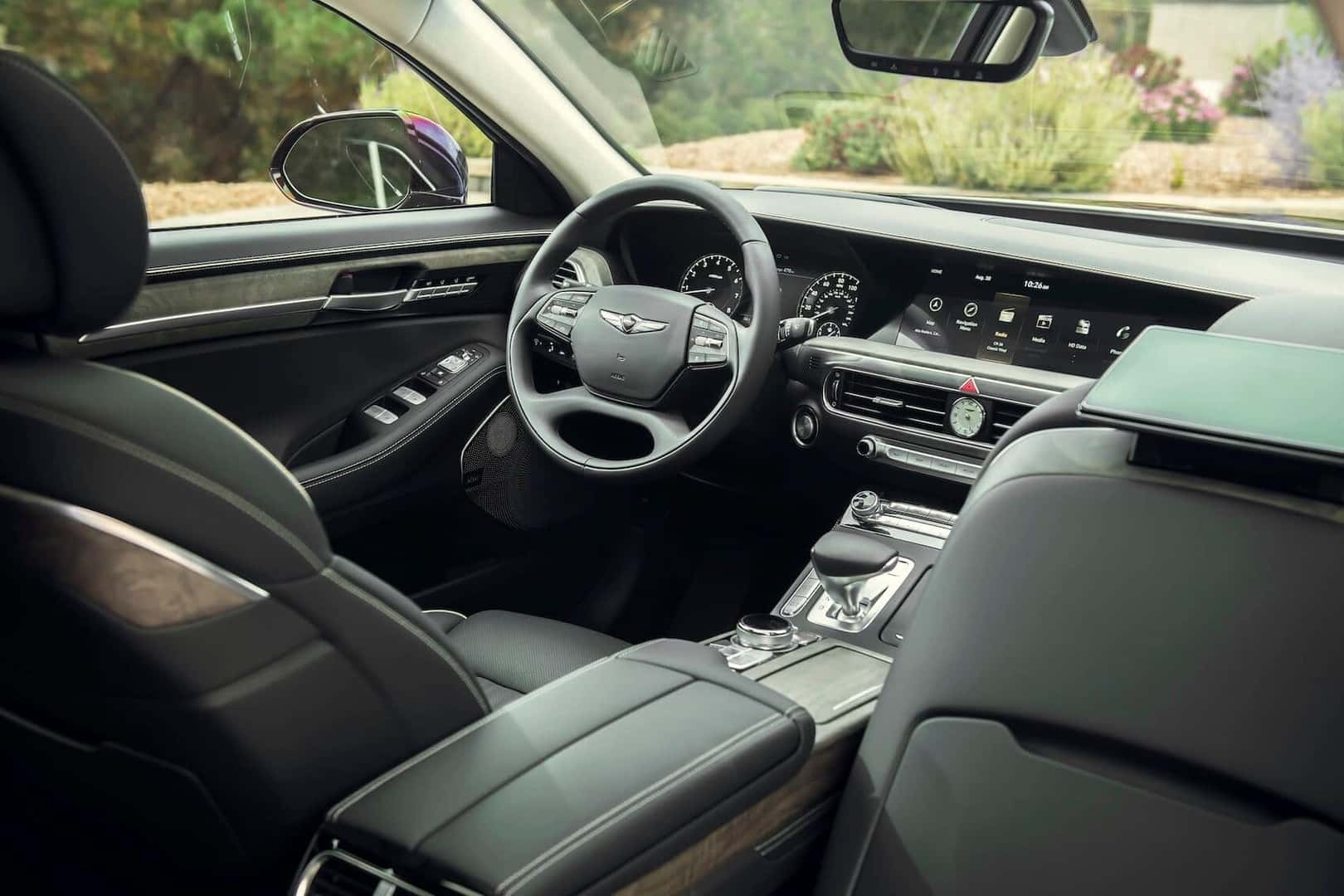 Both of these luxury vehicles allow for customization at the helm with Intelligent Drive Mode. The 2021 G80 and G90 include Comfort mode for normal driving, Eco mode to conserve fuel, and Sport mode for dynamic handling. For an even sportier performance, switch into Smart mode or use Custom mode with Rear Comfort settings to mix and match things your way.
The 2021 Genesis G80 and 2021 Genesis G90 come with enough juice under the hood to change the definition of what a luxury sedan can be.
The lean, mean 2021 G80 includes two powertrain options. First, there's the standard 2.5L turbocharged inline 4-cylinder engine that gets up to 300 horsepower. With an available upgrade to a 375-horsepower 3.5L twin-turbocharged V6 engine, this machine can pump adrenaline like water.
For more oomph at your disposal, the 2021 Genesis G90 offers two different potent powertrain options. When the standard 3.3L twin-turbo V6 engine that gets up to 365 horsepower or the available 420-horsepower 5.0L V8 engine starts screaming, you'll leave other drivers in the dust.
---
Fuel Economy

While the 2021 Genesis G90 does offer exceptional power, the 2021 Genesis G80 can get you a little bit farther between stops at the gas station. The 2021 G90 still won't let you down when it comes to the MPGs, clocking in at an EPA-estimated 17 city/24 highway MPG. The smaller powertrain of the 2021 Genesis G80 allows for higher efficiency, garnering an impressive EPA-estimated 23 city/32 highway MPG.1
---
Test Drive a Genesis
Knowing the subtle differences between the 2021 Genesis G80 and 2021 Genesis G90 should give you the clarity of mind to decide which model is right for you.
No matter which one you choose, you will own the roads of Parker, Littleton, and Castle Rock, CO, with either car. Give us a call at Genesis of Littleton to schedule a test drive today!
---
1 Estimated horsepower based on premium fuel ratings. Use of regular fuel will result in reduced horsepower.
---