Genesis G80 vs Lexus ES 350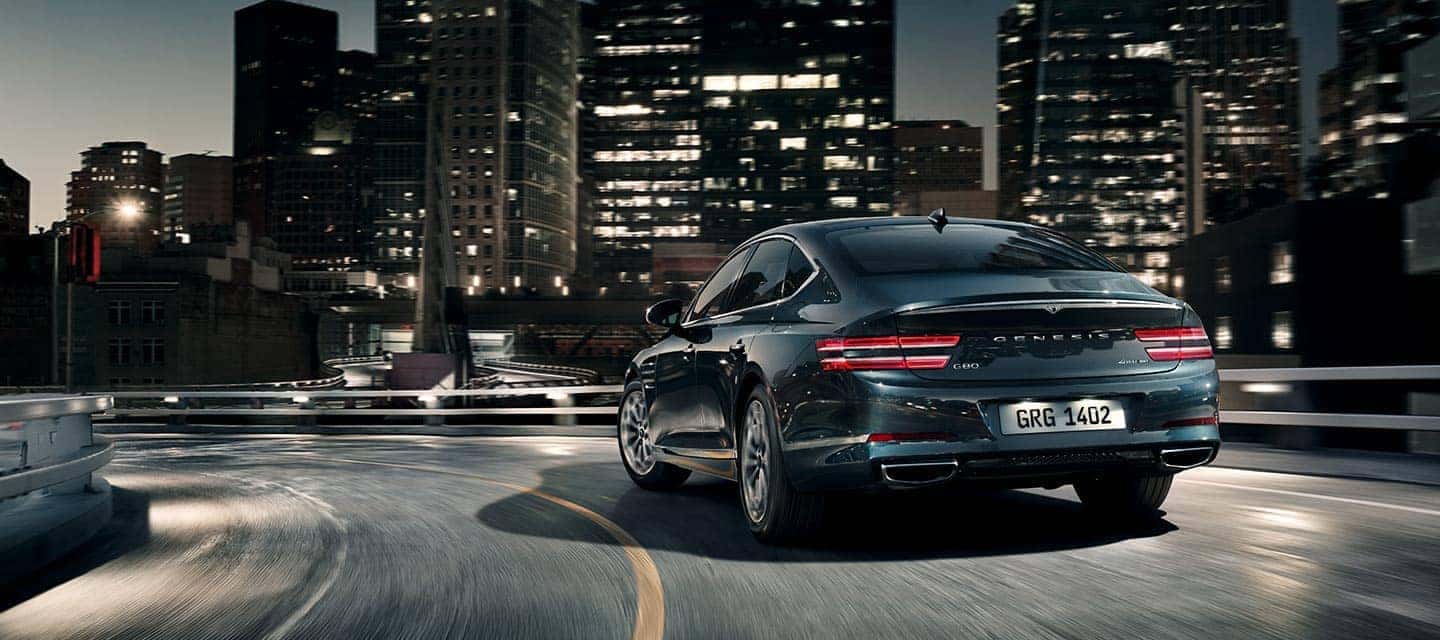 When you're looking for a classically elegant executive sedan for traveling around Parker, Littleton, and Castle Rock, Colorado, you want the best vehicle you can find. Two refined vehicles come to mind, and either one could fulfill your requirements. One day you decide on the Lexus ES 350 sedan, and on the other you check off the 2021 Genesis G80. Isn't it time, though, to make a final decision?
Genesis of Littleton wants to assist you in your search, so we created a comparison between the Genesis G80 vs. Lexus ES 350 to identify the differences between the two. Read below for the details.
G80 vs ES 350: Performance
For a luxury car, you want high-profile performance, and the G80 provides just that with 311 horsepower stemming from the 3.8L Lambda V6 engine to keep you ahead of the pack and 293 lb-ft of torque to keep you surging forward. The ES 350 nearly matches the G80 with 302 horsepower, but has much less torque with 267 lb-ft coming from a 3.5L V6 engine.
Dimensions
Drivers and passengers will enjoy the 41.1 inches of front seat headroom in the G80 and the ability to stretch their legs with 45.7 inches. In the ES 350, you get way less headroom in the front with only 37.5 inches and not as much legroom either—it measures 42.4 inches.
A generous interior in the G80 means your passengers will be as comfortable as you. The G80 contains about 108 cubic feet of passenger volume. Unfortunately, the Lexus only provides close to 100 cubic feet of passenger volume, which means passengers may feel a little more compromised for available space.
Convenience and Comfort
Think about luxury for a moment. What do you want beyond space and impressive performance? Convenient features and comfortable elements that create an effortless experience on the road, of course.
Consider that the G80 offers standard front heated seats while the ES 350 leaves them optional. Make a note that if you want front power memory seats in the G80 that they come standard, but in the ES 350 they are available.
If you want to slide into your car and avoid spending time adjusting your mirrors and steering column to your preferences, the G80 provides a standard memory steering column and standard Memory Adjustable exterior mirrors for your convenience. The ES 350 leaves both features as available options only.
Using the G80 Hands-Free Smart Trunk Release could not be easier. Simply stand by the trunk with your smart key tucked into your pocket, and it opens in only three seconds! For the Lexus trunk, you need to either take out your key fob and press a button or kick your foot near the sensor, which could make you lose your balance.
Learn More About The Genesis G80 HERE!
Navigation Systems
Pre-installed navigation systems give you security on the road, especially when you travel for work or need to go to unfamiliar places to meet clients. The G80 comes complete with a standard navigation system while the ES 350 provides you a navigation system in one of their available packages.
Safety Tech
Noticing the blind spot may be one of the most challenging things to look out for when you drive. That's why the G80 provides a standard Blind-Spot Collision-Avoidance Assist to give you an extra hawk-like pair of eyes to make sure your blind spot is clear. You can get the Blind Spot Monitor in the ES 350, but again, it's optional.
Find the Luxury Sedan You Like: 2021 Genesis G80 vs Lexus ES 350
Once you decide between the 2021 Genesis G80 and the Lexus ES 350, you can drive through Parker, Littleton, and Castle Rock, CO, with confidence. We hope our comparison helped you make a final decision. Schedule a test drive at Genesis of Littleton today.