Genesis G90 Lease Deals


Cruising around the Parker, Littleton, and Castle Rock, CO, areas, in a sedan means you're surrounded by style and comfort, but cruising the town from behind the wheel of a luxury sedan—like the Genesis G90—makes your travels even more comfortable.
Did you know that leasing your Genesis G90 gives you all the benefits of purchasing but with possibly lower payments? To learn more, keep reading this Genesis G90 lease deals guide created by the team at Genesis of Littleton!
What Does It Mean to Lease?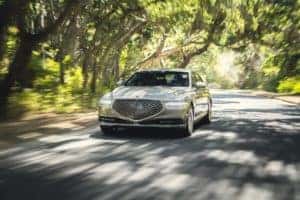 Leasing is like an agreement to borrow the Genesis G90 from our dealership for a period of time. During this time, you can commute to work, run errands, travel, and accomplish all the things you need to get done in your car.
The main difference between buying and leasing is that, when leasing, you only drive your Genesis G90 for a previously agreed upon length of time. Many leases last anywhere from 12–60 months with a mileage restriction determined at the time of lease.
Possible Lower Monthly Payments
Since leasing allows you to temporarily borrow the Genesis G90, your monthly payments won't reflect the total value of the sedan. Instead, your payments are a reflection of the estimated depreciation value of the Genesis G90 over the course of the lease.
Since this depreciation value is often less than the total value, you may find yourself paying less per month when leasing than you would if you were to purchase it outright.
Why Lease a Genesis G90?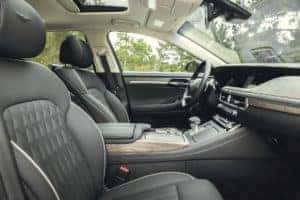 Inside and out, with the Genesis G90, you'll be cruising the town in ultimate style. The Genesis Crest grille appears aggressive, letting everyone know you mean business when traveling around. While the front grille lets onlookers know you mean business, the quad headlamps and premium alloy wheels will dazzle them.
The common theme found behind the design of the Genesis G90 is premium luxury. This is seen with the diamond motif found all around your sedan. From the diamond pattern on your wheels and grille, within your headlights, and even quilted on the Nappa leather seats, this commanding design can be seen everywhere.
How to Lease a Genesis G90
Leasing a Genesis G90 sedan is simple, especially when you visit our dealership's finance center. Staffed by a team of financing specialists, our team is here to secure your Genesis G90 lease deal in no time at all.
During your consultation, you'll discuss any questions you have about the lease process, let us know of any special financing requirements, and more. From there, our specialists will work with you to determine the type and length of your Genesis G90 lease that best aligns with your needs.
To learn more about any special financing you may require, check out any of our online financing tools. For example, our Value Your Trade tool is particularly helpful for those considering trading in their current ride when leasing.
Simply fill in your current vehicle's year, make, model, and other basic information. You'll be presented with a trade-in estimate that can be factored into your Genesis G90 lease deal.
Secure Your Genesis G90 Lease Deal Today
Ready to take to the streets near Parker, Littleton, and Castle Rock, Colorado, from behind the wheel of a luxury sedan? Want to experience this for less than you'd imagined? Head over to Genesis of Littleton to secure your Genesis G90 lease deal today!