Genesis G90 Maintenance Schedule
When driving around Parker, Littleton, and Castle Rock, CO, it won't take long to fall head-over-heels in love with your Genesis G90. While love at first sight is a powerful feeling, we're sure you want this new relationship to be a long and healthy one. To do this, you need to stay on top of your vehicle's maintenance schedule.
Luckily for you, we at Genesis of Littleton have created this Genesis G90 maintenance schedule resource. This way you'll always know which service is due and when. Let's get started!
Maintenance Considerations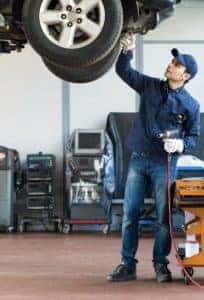 Each vehicle will require maintenance at different intervals. Some vehicles need the following service as recommended by the manufacturer and others need it earlier. Some of the reasons you may need to perform your service ahead of schedule include:
Frequent short trips under five miles
Lots of engine idling
Rough road conditions like dusty, muddy, unpaved, etc.
Frequent stop-and-go driving conditions
If you're ever unsure if your Genesis G90 is in need of a maintenance service, don't hesitate to reach out to your handy mechanic.
Maintenance at 7,500 Miles or 12 Months
Congratulations on reaching the first of many anniversaries with your Genesis G90! Now's a great time to perform some maintenance services like:
Replace engine oil and filter
Inspect your air cleaner filter
Rotate tires
Replace climate control air filter
Some other services to perform include inspecting your battery, brake system, and driveshaft, among other parts. When inspecting these parts, clean or replace any necessary parts.
Continue with this maintenance every 7,500 miles or 12 months, whichever comes first.
30,000 Miles or 48 Months
Once you and your Genesis G90 have been together for a few years, there's some extra maintenance you'll need. In addition to the previously listed maintenance, at this milestone you'll also want to:
Replace the air cleaner filter
Inspect the fluid lines, hoses, and connections
Continue with this Genesis G90 maintenance schedule every 30,000 miles or every 48 months, whichever comes first.
Additional Maintenance Service
There are certain maintenance jobs that follow a unique maintenance schedule. Let's take a look at these unique services:
Drive belts: Inspect at 60,000 miles or 72 months—whichever comes first—then every 15,000 miles or 24 months after that
Spark plugs: Replace every 97,500 miles
Engine coolant: Replace at 120,000 miles or 10 years—whichever comes first—then every 30,000 miles or 24 months afterwards
More Frequent Service
In addition to your yearly service, there are also services you want to perform monthly, twice-yearly, and at least once per year. These checks only take a few minutes, but are essential for the longterm health of your Genesis G90.
More Frequent Genesis G90 Maintenance Schedule

Frequency

Service

Every Month

Check coolant
Check brake lights, turn signals, and hazard lights
Check tire pressure

Twice a Year

Check windshield washer spray and wiper blade condition
Check seatbelts for wear
Check heater and AC hoses

Once a Year

Clean battery terminals
Check brake fluid levels
Lubricate door and hood locks, latches, and weather strips
Learn More About Your Genesis G90 Maintenance Schedule
Keeping your Genesis G90 in tip-top shape through routine maintenance is the key to ensuring that your vehicle will be by your side for years to come.
Thanks to our Genesis G90 maintenance schedule guide and the help of our Genesis-certified technicians, your vehicle will be in perfect condition and cruising around Parker, Littleton, and Castle Rock, Colorado, for an extended time.
To learn more about your Genesis G90 maintenance schedule or to book your service appointment, visit us at Genesis of Littleton today!