2021 Genesis GV80 Colors

Driving a luxury SUV means you get noticed. That's no exception when you drive the newly released Genesis GV80. The interior of this SUV gives you the variety you need to customize your cabin, so you're surrounded by the look you want and need. The outside helps transport you to your favorite destination thanks to its selection of vibrant colors.
With your preferred color combination, you're sure to cruise around Parker, Littleton, and Castle Rock, CO, feeling like the road is your red carpet. We at Genesis of Littleton are here to help you learn how you can customize your luxury SUV thanks to the 2021 Genesis GV80 colors. Keep reading to learn more!
Exterior 2021 Genesis GV80 Colors
Have you ever wanted to climb the Himalayan Mountains? What about swim in the surreal blue of the Adriatic Sea? The 2021 Genesis GV80 makes it possible to visit your favorite place by selecting the appropriate exterior color, including Himalayan Gray and Adriatic Blue.
Additional 2021 Genesis GV80 Exterior Colors:
Vik Black
Savile Silver
Uyuni White
Cardiff Green
Lima Red
Explore Jagged Rocks in Vik Black
Vík í Mýrdal, Iceland, is a remote village home to many jagged rocks. When these formations cast shadows, they form a deep black mimicked by the classic Vik Black offered with the 2021 Genesis GV80.
Upgrade Your Wardrobe With Savile Silver
When looking for a premium, tailored suit in England, Savile Row is the place to go. Driving the Genesis GV80 in striking Savile Silver has you feeling like you're dressed to the nines in a new custom suit.
Travel Down Under in Gold Coast Silver
Grab your surfboard and head to the place everyone from beginner to professional surfers calls paradise. When you drive around in Gold Coast Silver, the lapping of rolling waves and the golden sun are your permanent travel companions.
Hike the Himalayan Mountains
You'll always feel like an adventure seeker when the exterior of your Genesis GV80 is outfitted in Himalayan Gray. This strong exterior color matches the rock of the Himalayan Mountains. So, when you're looking at the landscape of Mount Falcon Park from your Genesis, you'll feel like you're preparing to scale the sides of the Himalayas.
Swim the Seas of Adriatic Blue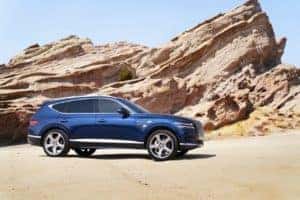 Want a calming and relaxing ride around town? Then, the Adriatic Blue of the Genesis GV80 is the color for you. Mimicking the rich, vibrant blues of the Adriatic Sea, you'll always feel like you're floating in  warm waters.
Explore the Clouds With Uyuni White
The Salar de Uyuni may seem like an optical illusion, but this dried-up lake left bright-white sand that is quite real. Your Genesis GV80 can match the brilliant gleam of this salt flat when you choose the Uyuni White color option.
All-Year Winter With Alta White
White is s calming color, especially when you think about the fresh powder unaltered by footprints. Traveling in your luxury SUV with Alta White will always leave you with this calm feeling while mixing in the thrill of traveling down the mountain on skis as the wind rips through your hair.
Surrounded by Green in Cardiff
There's no shortage of greenery when you visit the city of Cardiff in Wales. You'll blend into the lush landscape of the seemingly endless flora when your Genesis GV80 is styled in Cardiff Green.
Watching Sunsets in Lima
When the sun starts to dip below the horizon, the city of Lima, Peru, is wrapped in a warm blanket of reds. Feel the warmth as you travel around town in your Genesis GV80 by choosing the Lima Red color option.
Genesis GV80 Interior Colors
Put your seat upright and make sure your tray tables are locked—it's time to jet off to new heights. Clearly, the exterior of this SUV is primed to help you travel far and wide, but what will you find when you open the doors to the inside?
A whole new world of visual exploration awaits you.
Standard Design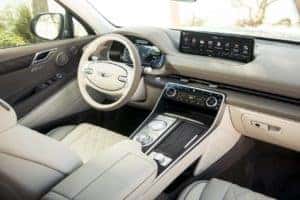 The standard Genesis GV80 comes with a pre-determined color combination. It features an obsidian black or vanilla beige with leatherette upholstery and black high-gloss trim.
Advanced Package
If you're looking for more variety, the optional Advanced Package has what you're looking for. This selection features obsidian black and vanilla beige like before, but with the introduction of two-tone options. These include ultramarine blue and dune beige, beige with urban ground, and beige with black.
Prestige Package
Want premium upholstery and trim options? Prestige Package offers a vast selection of interior customization options.
Premium quilted Nappa leather upholstery is featured in this design selection for top-of-the-line quality. All the previously listed upholstery colors are offered with the addition of Smokey Green.
In terms of two-tone options, maroon brown is a new addition.
This design selection also features new wood accent trim options in these colors:
Metallic Porefiller Ash
Olive Ash
Black Ash
For the most customization options, this available design package is the way to go.
Which 2021 Genesis GV80 Color Combination Will You Choose?
There's no shortage of color options with the newly released 2021 Genesis GV80. From its variety of interior color options to the adventuristic exterior colors, the GV80 makes it possible for you to fully customize the look of your Parker, Littleton, and Castle Rock, Colorado, travels.
Choose your color option by visiting us at Genesis of Littleton today!