---
Warning Signs You May Need Transmission Repair
Roughly every 30,000 miles you may need your transmission fluid replenished to keep your vehicle running smoothly. However, this can vary by make and model, so consult your owner's manual for more information.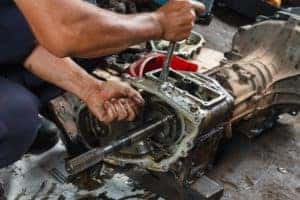 Additionally, there may be some clear signs your transmission may need to be repaired. Always take note of how your vehicle performs and contact your local service center if you notice anything out of the ordinary.
Your transmission is responsible for helping you change gears, so any issues with this system can lead to problems with gear shifts. For example, if you find your gears are slipping out of place when driving, you'll need to have your transmission system inspected right away, since this issue can be dangerous.
A lack of transmission fluid or the wrong type of fluid can lead to a struggle to change gears or an inability to shift gears at all.
A burning smell may indicate overheating. If you smell anything unusual, have your engine and transmission system inspected right away.
Unusual Noises When in Neutral
If your car needs fresh transmission fluid or if a major component needs to be replaced, you may hear strange noises when your car is in neutral, so you should have your car inspected right away.
If you ever see fluid leaking on to your driveway or the floor of your garage, then you need to have your vehicle inspected by a technician. Transmission fluid is bright red in color with a sweet smell, so if you see this oil then there may be a transmission issue.
Grinding or Shaking When Changing Gears
Another clear sign there may be an issue within your transmission system is grinding or shaking when you're switching gears. Schedule an inspection if you notice this irregularity.