2021 Genesis G80 Review

---
Whether you're heading to a meeting in downtown Denver or just taking a spin in Parker, Littleton, or Castle Rock, CO, heads will turn to look when you pull up in the 2021 Genesis G80. If you're the type of driver that desires the pinnacle of performance, elegance, and technology, let the 2021 Genesis G80 take you to the peak.
The team here at Genesis of Littleton is dedicated to bringing you the finest quality car-buying experience. See what the 2021 Genesis G80 can offer you with our comprehensive review!
---
2021 Genesis G80: Performance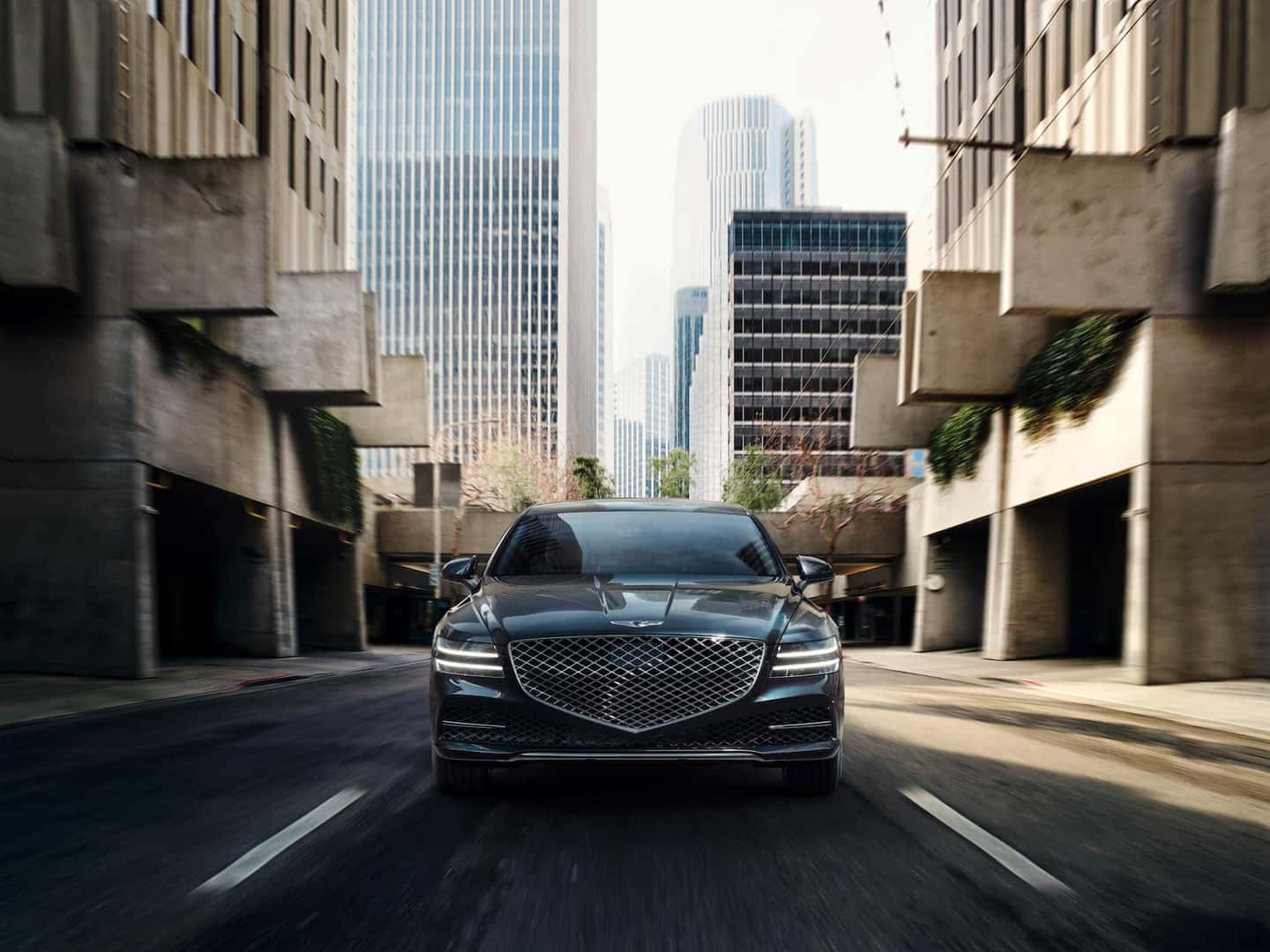 Under the hood of the 2021 G80 is where major-league power meets top-brass intelligence. Grip the wheel and take off with the smooth combination of the standard 2.5L turbo inline 4-cylinder engine and 8-speed automatic transmission, which packs a punch with 300 horsepower.1 You can always upgrade to the available 3.5L twin-turbo V6 with All Wheel Drive, topping out at an impressive 375 horsepower.
Wondering about that executive-level intelligence we just mentioned? It comes in the form of the Genesis G80's Intelligent Drive Mode, which grants the ability to adjust transmission mapping, throttle responsiveness, suspension, and more to suit your driving style and surroundings.
---
G80: Elegance in Design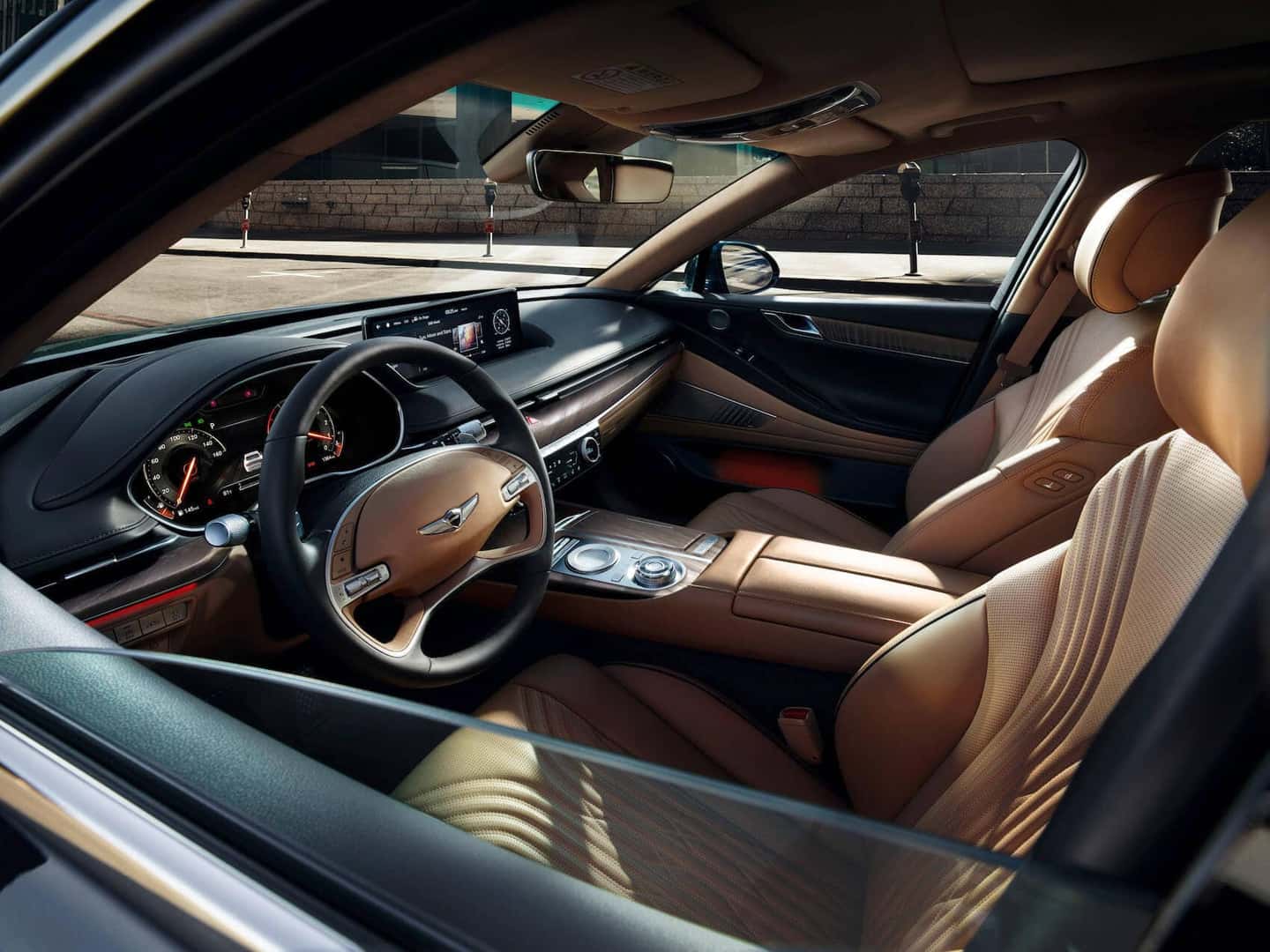 Sophisticated and thoughtfully designed with classic style in mind, the 2021 Genesis G80 sits wide and boasts a sleek exterior. Its eye-catching lines and dynamic rear curves are emphasized by twinkling LED quad headlights and an evolved Crest Grille, making this sedan both imposing and graceful on the streets.
Inside, you will find yourself in first-class comfort, with features like:
• Standard leatherette seats with piano black gloss trim & integrated memory seating with available quilted Nappa leather seats and matte finish wood trim.
• Standard 12-way power front seats with Smart Posture Care.
• Adjustable ambient lighting and available panoramic sunroof.
• Standard dual-zone climate control with available 3-zone climate control.
---
2021 G80: Interior Technology
Intuitive and advanced, the technology at your fingertips in the 2021 Genesis G80 is built to help you thrive on every ride. Small flourishes from available wireless charging to the standard 14.5-inch infotainment screen—all wired into the premium 12-speaker sound system—are all waiting to greet you in the 2021 G80. For the true audiophile, upgrade to the available Lexicon® 21-speaker audio system and hear all your favorite audio in a whole new way.
---
Genesis G80: Safety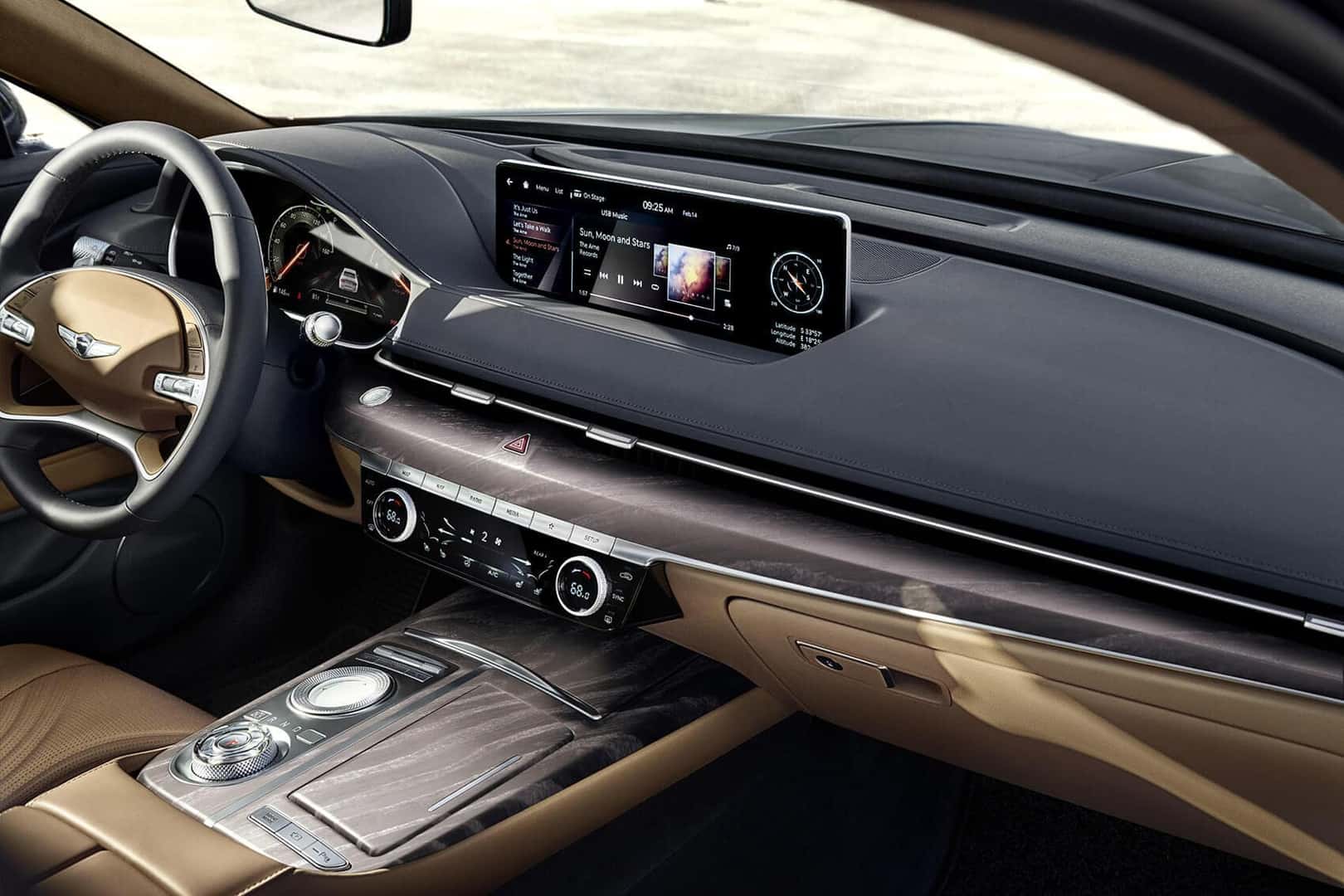 Along with the advanced interior technology on the 2021 Genesis G80, you'll also have a 360° bubble of exterior safety features. These features are built-in to keep you and your passengers out of harm's way and as secure as possible. State-of-the-art tech like the world's first Smart Cruise Control with Machine Learning allows for true driver-to-car bonding like never before as your car adjusts to your driving style.2
Progressive preventative features like Forward Collision-Avoidance Assist, Safe Exit Assist, and Blind-Spot Collision-Avoidance Assist buffer the 2021 Genesis G80 with an intangible shield for continued safety.3,4,5
The icing on the cake? Parallel parking is a thing of the past in the 2021 genesis G80 with Remote Smart Parking Assist, which allows you to step out of the car and let it park by itself with the press and hold of a button.6
You May Also Like:
---
Test Drive the 2021 Genesis G80
Looking to take the next step? Give us a call at Genesis of Littleton to test out the 2021 Genesis G80 on the roads of Parker, Littleton, and Castle Rock, CO, today!
1 Estimated horsepower based on premium fuel ratings. Use of regular fuel will result in reduced horsepower.
2 Smart Cruise Control with machine learning (SCC) is not a collision avoidance or warning device. SCC is for highway use only and should not be used in poor weather, heavy or varying traffic, or on winding or slippery roads. Driver remains responsible to slow or stop the vehicle to avoid a collision. See Owner's Manual for details and limitations.
3 Forward Collision-Avoidance Assist (FCA) with Pedestrian Detection helps detect pedestrians, but not in all conditions. FCA is designed to assist drivers to avoid, or reduce the severity of, collisions with cars that have slowed or stopped in front of them. The system is not designed to detect certain stationary objects such as trees or poles, and may not detect all vehicles and pedestrians under certain road, weather and vehicle conditions. It is a supplemental assist and does not replace the need for extreme care and attention by the driver. FCA may not stop the vehicle completely and will not avoid all collisions. The driver is responsible for being attentive and maintaining control of the vehicle, and should not wait for the system's alerts before braking as there may not be sufficient time to brake safely. See Owner's Manual for details and limitations.
4 When the vehicle is parked, Safe Exit Assist (SEA) can alert occupants planning to exit the vehicle when a vehicle is approaching from behind. When Child Locks are active, SEA helps prevent the rear doors from opening if a vehicle approaching from behind is detected. All doors must be closed for Safe Exit Assist to operate. Functionality is retained for 10 minutes after the ignition is turned off. Opening the door switches Safe Exit Assist off. See Owner's Manual for details and limitations.
5 Blind-Spot Collision-Avoidance Assist (BCA) helps the driver by warning of other cars in the blind spot region and can apply braking to help prevent an unsafe lane change. It senses the rear side territory of the vehicle when it is traveling over 20 mph. There are limitations to the function, range, detection and clarity of the system. It will not detect all vehicles or objects in the blind spot. Its operation depends on the size, distance, angle and relative speed difference between your car and other cars. BCA may not operate if sensors are obscured in any way. Do not rely exclusively on BCA. BCA is a supplemental system and the driver must still be attentive and exercise caution when driving. It is important to always signal, look over your shoulder and through your mirrors before changing lanes. It is the driver's responsibility to be aware of the surroundings and ensure it is clear before changing lanes or directions. See Owner's Manual for details and limitations.
6 Remote Smart Parking Assist (RSPA) can help park the vehicle. However, several factors can impact RSPA performance. RSPA may not function correctly if one or more of the parking sensors is damaged, dirty or covered or if weather conditions (heavy rain, snow or fog) are interfering with the sensor operation. Always inspect the parking area with your own eyes. See Owner's Manual for details and limitations.
---